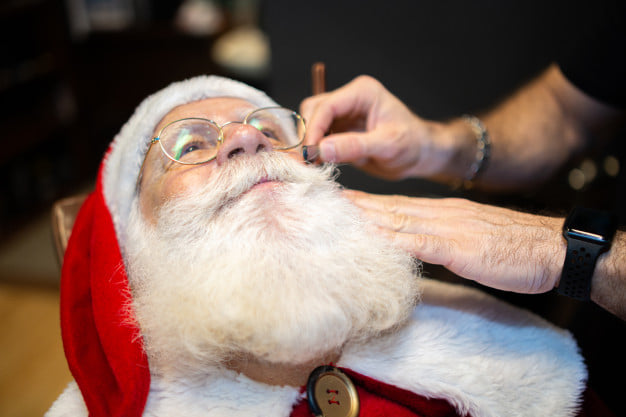 Look your best this holiday season with a new haircut for the holidays! While you may have a holiday get-together or a celebration over Zoom, either way, you will want to look your best. Of course, all you future Santa's can also get your beard trimmed as well. At Hair Mechanix of Jacksonville, we are open on Christmas Eve. Also, we are open on New Year's Eve as well.
Get Your Haircut For The Holidays
We all know that 2021 has been a little bit of a dumpster fire. So let us start off the new year with a new look and attitude for the new year. When you come into Hair Mechanix of Jacksonville, you are treated like a VIP. Not only are you getting the best haircut in Jacksonville, but you are also getting a neck massage, hot towel, and neck shave for no extra cost. Why not be pampered the way you deserve.
In between Christmas shopping, working, and planning, stop and enjoy your time at Hair Mechanix. Do not worry, we follow all the CDC guidelines and provide you with a safe and clean environment. In addition, our fun atmosphere and friendly staff will have you coming back for years to come. Hair Mechanix offers a wide variety of services and products to choose from. Services from waxing to coloring, we have all the services you need to look your best.
Not sure what type of product you need for your hair? Our experienced stylists can recommend just the right product to help you maintain your look all year long.  Right now we have two great locations in Jacksonville to choose from. Nassau is located at 11702 Beach Blvd Jacksonville, FL 32246. Also, there is the Mandarin location at 11700 San Jose Blvd. Unit 6 Jacksonville, FL 32223. Visit us today for a great holiday haircut!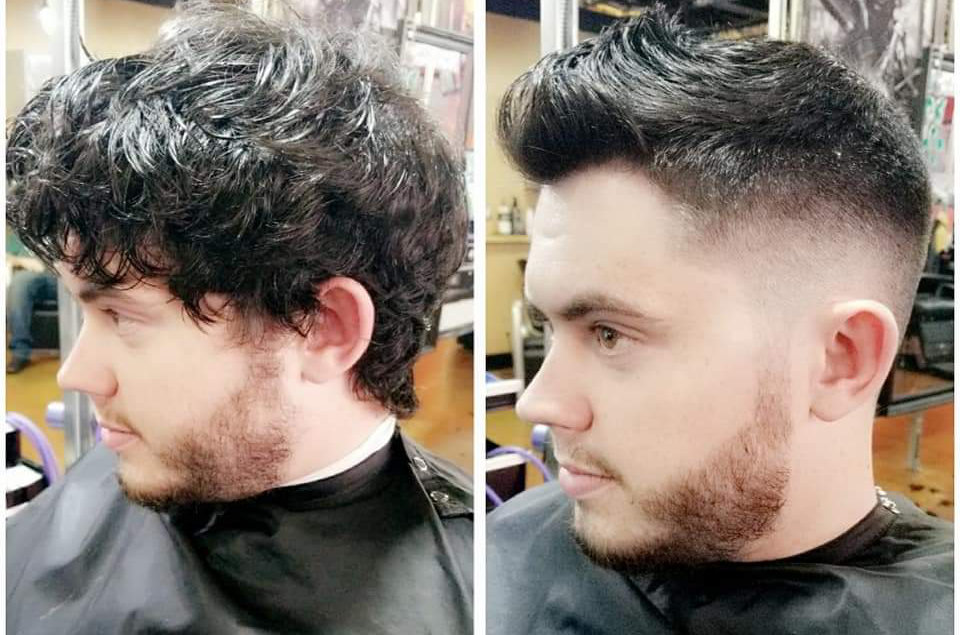 The holidays can be a stressful time with all the shopping, decorating, cooking and scheduling that is involved. Take some time for yourself and get a new hair cut for the holidays. Look your best for all of your outings this year. Our locations are closed on Thanksgiving, but we reopen at 9 am on Black Friday, so stop by after your holiday shopping.
Looking Your Best For The Holidays
Not sure what style might suit you the best? Ask our experienced stylist, they stay up on all the latest trends. In addition, they can recommend so new looks that you may be interested in. Also, while you are at Hair Mechanix, try some of our other grooming services as well.  We offer waxing, coloring, and shaving to name a few.  For the holidays we are closed on Thanksgiving, Christmas, and New Years day.
If you are an active military or a veteran visit us Monday through Wednesday for $3.00 off.  Also, we have other great offers to save you money on your next visit.  Are you an experienced stylist looking for work this time of year? Apply at Hair Mechanix we are always looking for great stylists to join our team. Hair Mechanix is one of the top barbershops around.
Do you know what makes great gifts for the guy in your life? We carry all the latest hair care products to keep guys looking great all year. From hair gel to shampoo, we have everything you need. We have products from the top brands like American Crew and Billy Jealousy.  Ask your stylist for the latest products and how to use them.  Finally, here at Hair Mechanix, we would like to wish you and your family happy holidays from all of us.
Make sure to visit us today for the hair cut you have always wanted!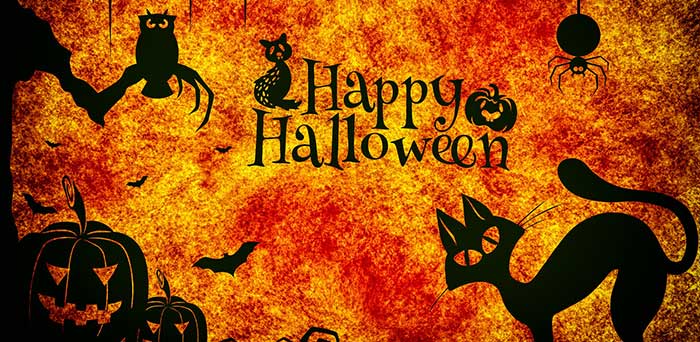 Want to look great this Halloween? The place for a Halloween haircut in Jacksonville is Hair Mechanix. This time of year there are parties to attend and good times with friends and family.  So you need to look your best, and the experts at Hair Mechanix can help you with that. Book your appointment today! Want to learn a little about the history of Halloween? Below is a brief history of how the holiday became what it is today.
A Halloween Haircut and Some History
For the best men's haircuts in Jacksonville is at Hair Mechanix. So when you go trick to treating this year make sure you look sharp. Have you ever wonder what started the trick or treating tradition? Halloween was borrowed from the Celtic holiday where at the end of the year people would dress up as evil spirits. The Catholic Church changed the name to All Hallows Eve, All Soul's Day, and All Saints Day.
On each of the days, poor adults and children would dress as saints, angels, and demons and go door to door begging for food and money. All this was during the middle ages, eventually, the tradition re-emerged in the United States in the 19020s and 1930s. Of course, the holiday was made into one day as we know it today as Halloween. One funny fact, the British apparently hate Halloween. In a 2006 survey, it found that over half of the British homeowners to not participate in the Halloween tradition.
If you are taking the kids trick or treating or attending a great Halloween party, make sure your look is in order. Stop by Hair Mechanix of Jacksonville this Halloween for a shave, massage and a haircut you will be glad you did! Finally, if you are a first-time customer ask about our first-time deal, you will be glad you did.