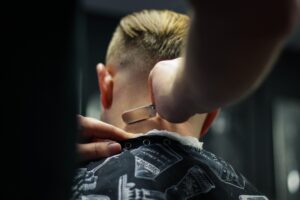 The holidays are quickly approaching this year. Soon, it will be time for family meals at Thanksgiving, Christmas shopping, appeasing in-laws on Christmas Eve, and welcoming 2024 on New Year's. The next few months will be a stressful time that we all have to prepare for. What better way to be prepared for the stressful season than with a new holiday hairstyle from Jacksonville Haircuts?
Best Holiday Haircuts this 2023
There are plenty of men's hairstyles that are popular right now from classic cuts to 1980's throwbacks. If you're not sure what holiday hairstyle you want to go for, here are some hairstyles that are in style this holiday season. 
The buzz cut is always a classic go-to for many of us due to its sleek look and low-management style. If you want the classic military cut this holiday season, our talented stylists can give you the very best!
A medium or high fade is always the way to go if you're indecisive about specifics but still looking for a modern cut. A fade has volume at the top of the head slowly tapered to bald at the base and sides of the head. The result is a sleek haircut with lots of volume and a cool look!
Effortless center parts with the hairstyle parted down the middle of the head are becoming more popular nowadays. This hairstyle requires very little maintenance while also keeping your head warm during the winter months.
The mullet is back in style (with some minor changes)! The popular 1980s hairstyle has made its comeback although the modern mullet is more of a shag and mullet cross with short hair on top, long hair on the bottom, and feathered layers throughout. This haircut speaks of confidence and a bold character. If that sounds like you, head into Hair Mechanix!
Get your holiday hairstyle today!
Here at Hair Mechanix Jacksonville, we offer more than just haircuts. Our talented staff also perform waxing services, shaves, detail work, and dye jobs. For a new look and a new attitude this holiday season, head into your local Hair Mechanix today.