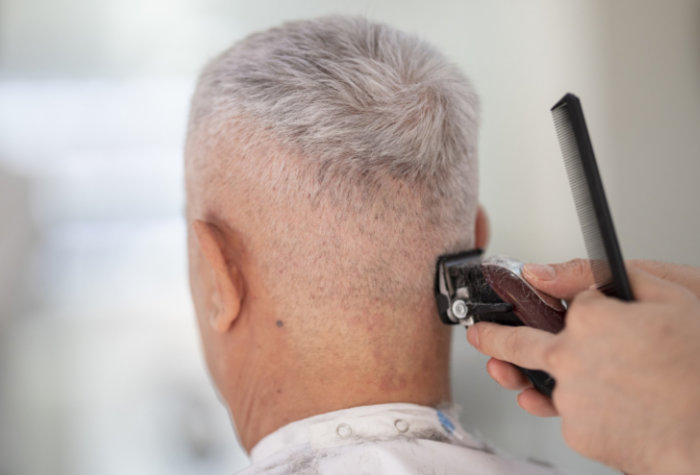 When it comes to haircuts for older men, the best place you can go to is Hair Mechanix Jacksonville! At Hair Mechanix, our experienced stylist can help you find the best haircut for your hairstyle. In addition, the atmosphere at Hair Mechanix is fun and inviting just like the old school barbershops of yesteryear. People of all ages enjoy visiting Hair Mechanix.
Local Haircuts for Older Men
Local seniors from centers such as Duval Mandarin Senior Citizens Center and the Lane Wiley Senior Center all visit Hair Mechanix.  Whether you have thin hair, balding hair, or a thick head of curly hair, we can make it look good. From buzzcuts to a more traditional look, Hair Mechanix can do it. Of course, not only are you getting a great new look, there are some perks to your haircut as well.
When you get a haircut from Hair Mechanix it also includes a free neck shave, hot towel massage, and shampoo. So not only will you get a hair cut but a relaxing time as well. In addition to that, there is a variety of other services to choose from as well. If you are feeling a little gray, we offer coloring services. Our expert stylist can help match and find just the right color for you.
Jacksonville Haircuts For The Elderly Gentleman
No matter if you are just looking to get out of the house for a while or you looking for a great new look, Hair Mechanix can help. We are the number one barbershop in the Jacksonville area. Also, our friendly stylist will treat you like you are family. So what are you waiting for? Visit Hair Mechanix today for your new men's haircut! Book your appointment today, you will be glad you did!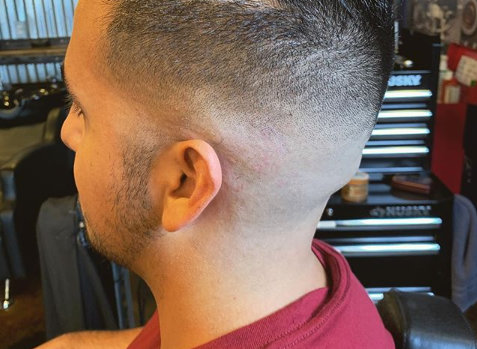 It is no secret that some of us have thin hair. Also, our hair tends to thin out for most of us. One type of hair cut that is popular with thinning hair is the buzz cut.  The buzz cut is very popular right now and it is really easy to maintain. People like Adam Levine and Tom Hardy are known for the short-haired look as well as Jason Statham.
Are Buzz Cuts Right For You?
Of course, the buzz cut is popular but it is not the only choice you have when it comes to thinning hair. Another popular choice is the crew cut. Similar to the buzz cut, but it leaves a little on the top. Also, this cut is sometimes known as the military cut. Now short hair is not always the desired look for people with thin hair. The mop-top look is always an option. The sides and back of the hair is trimmed some and the top is usually left long. This is so you can brush the hair forward hiding any bad hairlines.
In addition to buzz cuts, another option is the slick back. Again the sides and back are trimmed, but the top is left a little long. The top hair usually with some product, and slicked straight back. This style was popularized with the movie Wallstreet and David Beckham is known to use this hairstyle. There are many options to choose from and products to help with thin hair.
Visit Hair Mechanix Today
These are just a few examples of hair cuts for thin hair. Visit your local Hair Mechanix today for more advice from our expert stylists. Book an appointment or walk right in, either way, we are glad you came!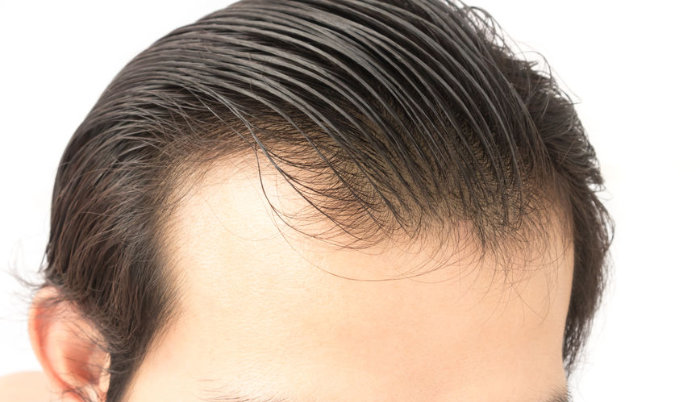 Hairstyles for older men with thinning hair can be difficult. But the expert stylists at Hair Mechanix of Jacksonville can help you with the right look for your hairstyle.  There are options to help work with your bald spot or thin hair and we will take the time to cover some of those options.  One of the easiest looks for your thinning hair is none other than the buzz cut.
The Buzz Cut
With an elegant look and easy to maintain the buzz cut is the perfect answer for any type of thinning or missing hair. Also, the buzz cut can help hide some of the receding hairlines as well. So the next time you are at Hair Mechanix, just ask them to buzz it down!
Hairstyles For Older Men – The Mop Top
Not everyone is happy with a buzz or really short hair, so naturally, the mop top could be a great option. Growing your hair out on top will enable you to brush it forward or off to the side where your hair is thinning.  It is a much more subtle look then a full-blown comb-over. With the mop top, you can vary the lengths so that you are happy with the look.
The Slick Back
The more old school look is the slick back. From Pat Riely to Gordon Gecko, guys have been using the slick back to hide bald spots for a long time. Keeping the sides short and trim then using a product (also available at Hair Mechanix), to slick your hair straight back or to the side. This helps in hiding bald spots as well as some of your hairline. These are just a few of the options you have when it comes to your hair.
Of course, there are also hair products that can make your hair thicker and fuller as well. No matter what style you choose, make sure to visit the professionals at Hair Mechanix they help you look your best with a new haircut in no time!