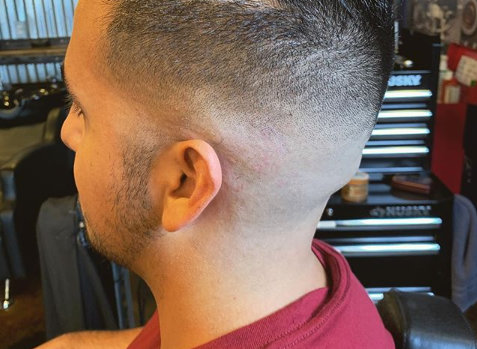 It is no secret that some of us have thin hair. Also, our hair tends to thin out for most of us. One type of hair cut that is popular with thinning hair is the buzz cut.  The buzz cut is very popular right now and it is really easy to maintain. People like Adam Levine and Tom Hardy are known for the short-haired look as well as Jason Statham.
Are Buzz Cuts Right For You?
Of course, the buzz cut is popular but it is not the only choice you have when it comes to thinning hair. Another popular choice is the crew cut. Similar to the buzz cut, but it leaves a little on the top. Also, this cut is sometimes known as the military cut. Now short hair is not always the desired look for people with thin hair. The mop-top look is always an option. The sides and back of the hair is trimmed some and the top is usually left long. This is so you can brush the hair forward hiding any bad hairlines.
In addition to buzz cuts, another option is the slick back. Again the sides and back are trimmed, but the top is left a little long. The top hair usually with some product, and slicked straight back. This style was popularized with the movie Wallstreet and David Beckham is known to use this hairstyle. There are many options to choose from and products to help with thin hair.
Visit Hair Mechanix Today
These are just a few examples of hair cuts for thin hair. Visit your local Hair Mechanix today for more advice from our expert stylists. Book an appointment or walk right in, either way, we are glad you came!
Posted In: Jacksonville, Men's Haircuts
Tags: Buzz Cuts, Hair Styles, Thin Hair