There comes a time when a guy needs to try a new haircut. For a lot of men, they have a signature hairstyle. Something that embodies who you are as a person. The hairstyle can be anything like; something traditional or unorthodox. However, at some point, everyone likes to change it up. They want to do something spontaneous and recreate their image. So, if you are going to try out a new haircut, you probably want to do something trendy and unique! So, here are a few hairstyles that you might want to try out!
Taper Haircut with Some Extra Spice
The taper hairstyle is a universal haircut that is easy to maintain. It's a classic haircut that many people like. However, it does not mean you cannot spice up this classic hairdo! One simple way is to add something extra to your look by brushing up on your taper! Just use hair products to help maintain your brush up and you will add texture and style that will last all day. You can add a fade to your taper haircut, creating a clean look for the classic hairstyle.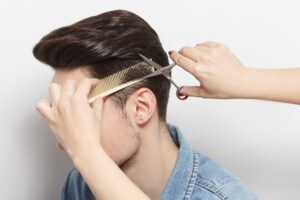 Pompadour Shake-Ups
The pompadour is an old-school haircut that people associate with greaser culture. Brushing your hair upwards and back allows you to get a voluminous look to your hair. However, doing a traditional pompadour can be boring. That is why there are a few to add an extra layer of style to this look. You can combine a pompadour and mohawk to give you a haircut that is individualized and elegant! You can also do layering to give a more contemporary look to this old-school hairstyle.
Fades for Days
Fades are very trendy at the moment and can be combined with any type of hairstyle. Not only can you do a taper and pompadour haircut with a fade but there are plenty of others, including:
Undercut
Mullet
Crew Cut
Crop Top
This is just a few, you can mix-match fades to get some fresh new haircuts! However, you shouldn't let anyone touch your hair. You want your hairstylist to be professional, confident, and up-to-date on the latest men's haircut trends. That is why you should always go to the Hair Mechanix Shops in Jacksonville for the latest and greatest haircuts for men!
A lot of people like to start off the new year with a whole new look. That may include buying a new wardrobe or losing some weight, but your first easy step is a new haircut. When it comes to looking your best, nothing gives you more confidence than a new cut. Knowing you look your best just helps increase your confidence to take on the day!
New Look In Jacksonville
Are you indecisive about what type of haircut to go with? You are in luck, the stylists at Hair Mechanix can help you find the perfect look that fits you best. Why stop at just a haircut? Hair Mechanix also offers a wide variety of other services to choose from.  Waxing, coloring, scalp treatments, and much more are all available. Go ahead, treat yourself!
Anytime is a great time for a haircut at Hair Mechanix! We offer a fully staffed location that is here to serve you if you walk in or have an appointment.  Either way, we are here to help.  Even if you do not want a haircut, stop in and say hi!
Sunshine And New Hair
One of the many bonuses of living in Jacksonville is the year-long great weather. While the north can get pretty cold this time of year, Florida gets to enjoy mild weather.  No matter what part of Jacksonville you are in, you can visit one of our great locations. Located in Mandarin and on Beach Blvd, our two shops are open and ready for you. Whether you are looking for a full buzz or just a little trim we have you covered.
Finally, start the new year off right. A fresh haircut from Hair Mechanix Jacksonville is just what you need. In addition to the cut, enjoy your free hot towel massage, shampoo, and neck shave on us. Visit today!