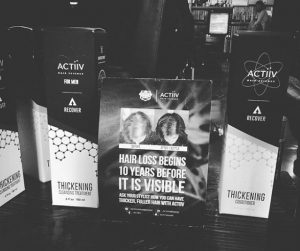 When you visit your local barber Hair Mechanix in Jacksonville, you will get a great haircut. If you would like to maintain that great look until your next cut, buy some hair products from Hair Mechanix. Our products cover everything you need to keep you looking your best. Also, your experienced stylist can help recommend which products will help you the most.
Not everyone's hair is the same, so by getting the advice from the stylist they can point you to the right products. From hair gel to shampoo, we have everything you need to maintain your style.
Hair Products – Actiiv
Actiiv for men is one of our newest brands we offer. Actiiv offers a full line of products to choose from. In addition, one of their most popular products is the Actiiv recover thickening cleansing treatment. The Recover for Men helps with thinning hair and helps provide a fuller-looking head of hair.  Also, the products are safe for a variety of hair types and are vegan and cruelty-free products.
Lockhart's Apothecary
Another popular product we carry at Hair Mechanix Jacksonville is Lockhart's Apothecary.  Lockhart is one of the best pomades you will use. It keeps your hair looking natural while holding it in place. Also, in addition to pomade, they have volumizing creams, beard oils, and soaps. Your Hair Mechanix stylist can help with which one you should choose.
These are just a few of the great products we carry at Hair Mechanix.  At Hair Mechanix we are always testing and trying new products we feel will benefit our customers. Make sure to visit your local Jacksonville barbershop today and try out some of our new products.  Finally, walk right in or make an appointment, either way, we are glad you visited.  We will see you on your next haircut!