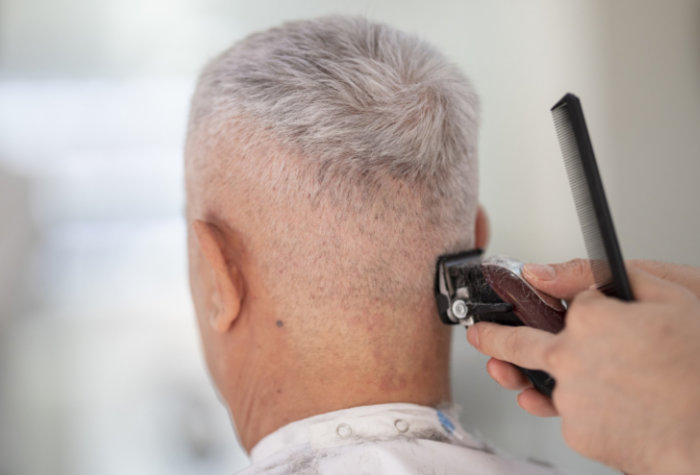 When it comes to haircuts for older men, the best place you can go to is Hair Mechanix Jacksonville! At Hair Mechanix, our experienced stylist can help you find the best haircut for your hairstyle. In addition, the atmosphere at Hair Mechanix is fun and inviting just like the old school barbershops of yesteryear. People of all ages enjoy visiting Hair Mechanix.
Local Haircuts for Older Men
Local seniors from centers such as Duval Mandarin Senior Citizens Center and the Lane Wiley Senior Center all visit Hair Mechanix.  Whether you have thin hair, balding hair, or a thick head of curly hair, we can make it look good. From buzzcuts to a more traditional look, Hair Mechanix can do it. Of course, not only are you getting a great new look, there are some perks to your haircut as well.
When you get a haircut from Hair Mechanix it also includes a free neck shave, hot towel massage, and shampoo. So not only will you get a hair cut but a relaxing time as well. In addition to that, there is a variety of other services to choose from as well. If you are feeling a little gray, we offer coloring services. Our expert stylist can help match and find just the right color for you.
Jacksonville Haircuts For The Elderly Gentleman
No matter if you are just looking to get out of the house for a while or you looking for a great new look, Hair Mechanix can help. We are the number one barbershop in the Jacksonville area. Also, our friendly stylist will treat you like you are family. So what are you waiting for? Visit Hair Mechanix today for your new men's haircut! Book your appointment today, you will be glad you did!
Posted In: Men's Haircuts
Tags: Hair Styles, Old School, Older Men