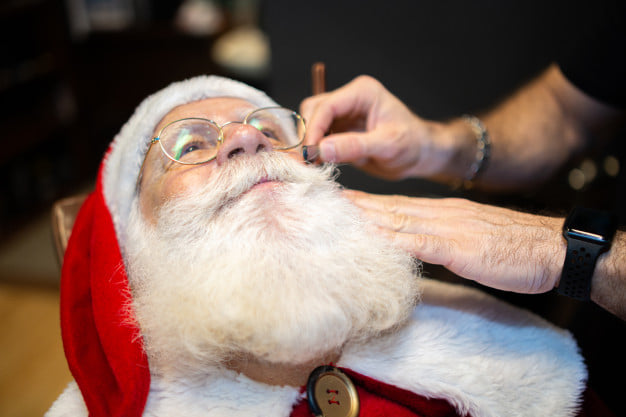 Look your best this holiday season with a new haircut for the holidays! While you may have a holiday get-together or a celebration over Zoom, either way, you will want to look your best. Of course, all you future Santa's can also get your beard trimmed as well. At Hair Mechanix of Jacksonville, we are open on Christmas Eve. Also, we are open on New Year's Eve as well.
Get Your Haircut For The Holidays
We all know that 2021 has been a little bit of a dumpster fire. So let us start off the new year with a new look and attitude for the new year. When you come into Hair Mechanix of Jacksonville, you are treated like a VIP. Not only are you getting the best haircut in Jacksonville, but you are also getting a neck massage, hot towel, and neck shave for no extra cost. Why not be pampered the way you deserve.
In between Christmas shopping, working, and planning, stop and enjoy your time at Hair Mechanix. Do not worry, we follow all the CDC guidelines and provide you with a safe and clean environment. In addition, our fun atmosphere and friendly staff will have you coming back for years to come. Hair Mechanix offers a wide variety of services and products to choose from. Services from waxing to coloring, we have all the services you need to look your best.
Not sure what type of product you need for your hair? Our experienced stylists can recommend just the right product to help you maintain your look all year long.  Right now we have two great locations in Jacksonville to choose from. Nassau is located at 11702 Beach Blvd Jacksonville, FL 32246. Also, there is the Mandarin location at 11700 San Jose Blvd. Unit 6 Jacksonville, FL 32223. Visit us today for a great holiday haircut!
Posted In: Holiday, Men's Haircuts
Tags: Haircut, Holidays, Men's Haircuts